Frank Sinatra: An American Legend
A Theatrical Act with Live Band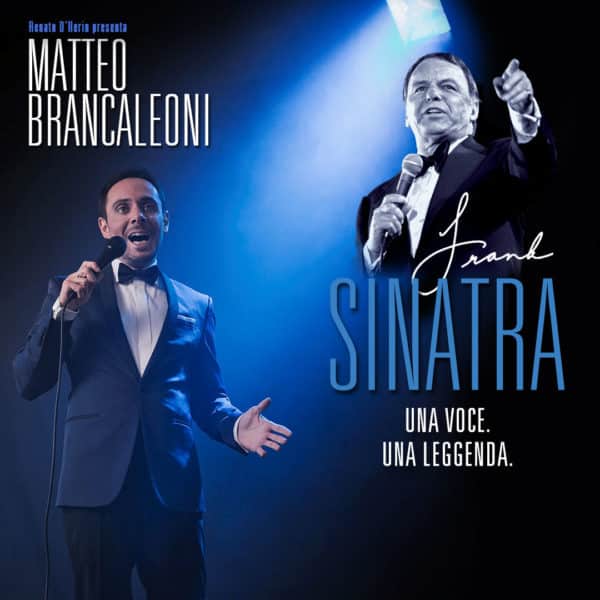 Frank Sinatra, as you have never known him, relives through the unmistakable voice of Matteo Brancaleoni, the Italian crooner par excellence.
It's more than a live concert: the new, suggestive and engaging theater show by Brancaleoni, to be seen and heard, immerses the audience, even through projected images, in life and in love, in music and in the career of Sinatra, "The Voice" , the Voice that the whole world still listens to and loves after more than a century after its birth.
To interpret the songs of Frank Sinatra, indeed to reinterpret them in a personal key, is Matteo Brancaleoni, together with the Italian Swing Band composed by Nino La Piana (piano), Gianpaolo Petrini (drums), Roberto Chiriaco (bass and double bass), Simone Garino (sax and clarinet), Stefano Coco (trumpet).
In a journey that winds through images, stories and the notes of those Sinatra songs considered now great timeless classics (from I've Got You Under My Skin to Fly Me To The Moon, from Strangers In The Night to New York New York, up to the My Way trademark), Brancaleoni's voice and the live music of the Italian Swing Band pay homage to an artist who entered 'the myth'.
Born in 1915 from a family of Italian immigrants in Hoboken, a suburb of New York, Frank Sinatra is one of the most celebrated and influential artists of the twentieth century, a true American legend, who has become a world icon of pop and swing music.
INFO
GENRE
Theatrical One Man Show with Live Band
SUITABLE FOR
Live (Theatres, Club, Hotels, Casinos, Festivals)
Are you interested in this show?